Some pretty ominous headlines have been circulating around the world lately regarding the risk of a global recession and the ongoing threat of inflation.
At TeleGeography, we've received several questions about how these economic indicators could impact the submarine cable industry. In particular, people are curious to know:
Will slowing economic growth impair international bandwidth demand growth on subsea cables?
Will inflation lead to rising international bandwidth prices?
Last month at the Submarine Networks World conference in Singapore, I gave a presentation that sought to shed some light on both of these questions.

After looking back at nearly two decades of data, I discovered there was no historical evidence that economic growth had a direct impact on international bandwidth growth rates.
Many factors drive demand for international bandwidth, and bandwidth demand is not highly correlated with economic growth.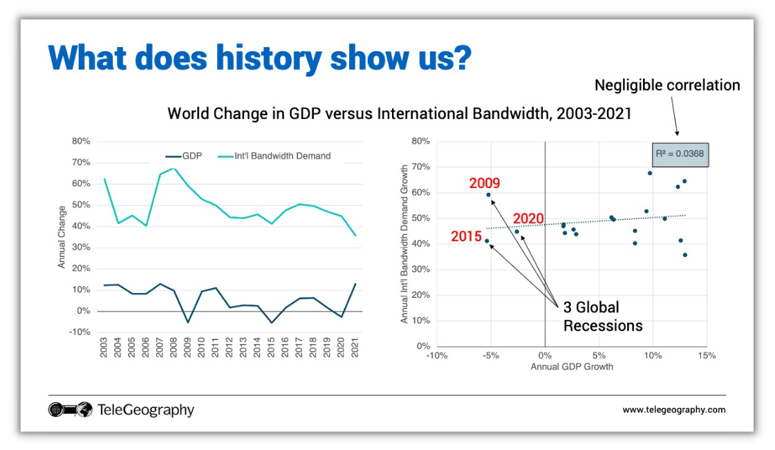 So what influences the demand for international bandwidth? Excellent question—I covered this in last year's presentation.
Next, I looked at whether inflation is leading to an increase in international bandwidth prices.
Based on our most recent data, prices are not rising; however, the pace of price erosion is slowing.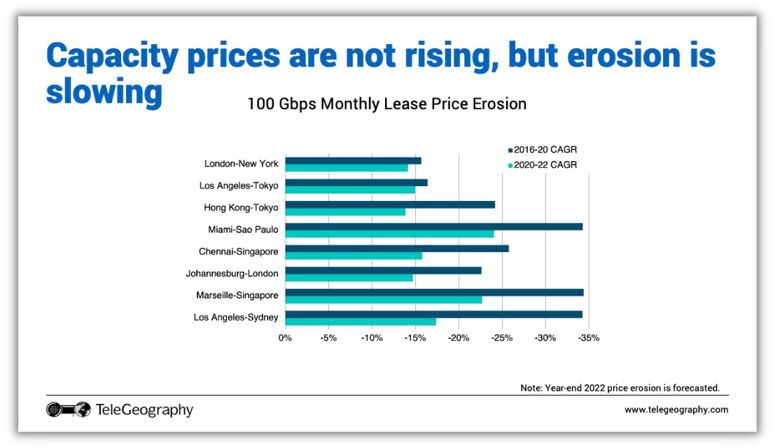 Why is price erosion slowing? There are many factors at play here.
Less competitive pressure: Delays in capacity upgrades and new cable activation are leading to fewer cables with inventory at one time.
Increasing equipment prices (inflation!): Carriers seek to recoup rising equipment prices with less aggressive capacity pricing.
Slowing pace of demand: Decelerating demand growth is slowing the reduction in unit cost of capacity.
Demand growth may be slowing, but it's still strong.
Demand growth may be slowing, but it's still strong. In fact, demand growth appears to be outpacing price erosion on major routes. This implies revenue growth—which is nice if you're a seller of bandwidth.
Ready to dive into the full presentation?
You can download my slides here.