NSK is working to assist society by developing new service robot technology, including robotic devices for moving patients in medical settings. In October 2021, the company joined a Japanese government initiative to implement robotic technology in hospitals and help prevent the spread of Covid-19. NSK is now working to develop its robotic technologies further through dialogue with frontline medical staff.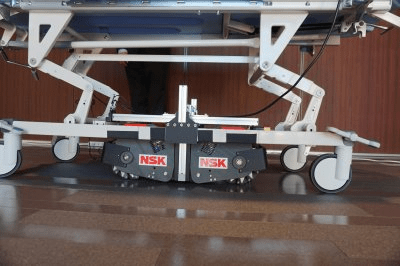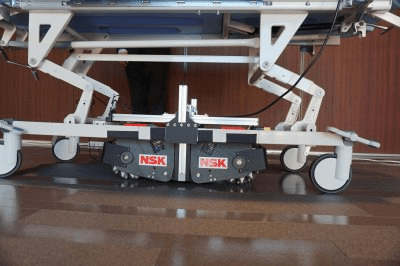 New robots are currently in development around the world to assist humans and help solve societal issues. As part of this effort, NSK wants to create robots for use in settings where many people are moving around, including medical facilities and hospitals. The company's smooth movement and low noise technologies are ideal for robotic applications in this field.
Among the candidates for development at the initial planning stage was an autonomous mobile robot. However, after observing the inner workings of a hospital, with its narrow corridors and high footfall rates, NSK concluded that a motorised assistance robot which could help staff during patient transfer would be a more useful contribution to workplace efficiency.
The company knew that its proposed robot could reduce the physical burden on medical staff and help facilitate work-style reform in the healthcare sector. Based on this approach, the company built a robotic prototype that helps staff to move heavy objects such as stretchers and trolleys in hospitals. As part of the Japanese government initiative, NSK is currently demonstrating the use of its motorised assistance robot at a major hospital. The end goal is eventual adoption by the healthcare sector for daily use.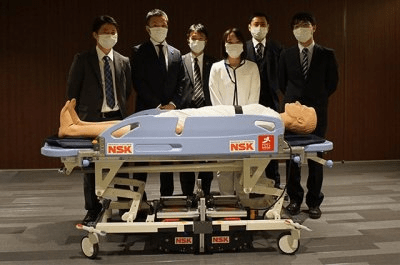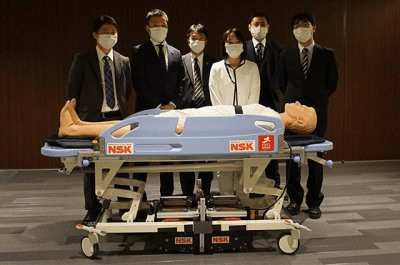 NSK is focusing on essential user issues when developing the assist robot, deploying idea verification in short cycles. For example, rather than spending three years to develop the robot in its entirety, NSK is seeking feedback from customers every three months, implementing improvements incrementally during the development process.
The robot developed by NSK uses a motor drive that facilitates smooth starting and acceleration, as well as deceleration and tight turns. NSK ultimately wants to create a usable robot that fits user requirements, leveraging its know-how to aid people working in frontline healthcare. Innovative projects of this type support the company's ethos of better meeting the needs of society, while simultaneously creating opportunities for new business growth.
Ähnliche Beiträge