AppleInsider is supported by its audience and may earn commission as an Amazon Associate and affiliate partner on qualifying purchases. These affiliate partnerships do not influence our editorial content.

It's very easy to delete an iPhone photo you don't want — but fortunately it's equally easy to undelete it when you change your mind. Here's how to do it.
Deleting an image from the Photos app on an iPhone is not really deleting it, not yet. Instead, unless you take positive steps to erase it right now, the photo stays on your phone for up to 40 days.
Don't trust that 40 day figure, though. That's what Apple says in your iPhone's Photos album, that permanent deletion "may take up to 40 days." But when you delete a photo, Photos labels it with how many days until it will be permanently erased — and usually you find that says "29 days."
Also, don't use this as a way to temporarily move photos out of an album, though, because you will forget to move them back within the 40 days. And after that, they are really, truly, gone for good.
Up until whenever the limit is, though, you can undelete your deleted photos.
How to undelete photos on iPhone
In the Photos app, tap on Albums

Scroll to the very bottom and select Recently Deleted

If prompted, use Face ID to open this album

Tap on the photo to open it

Tap the Recover button at bottom right

Tap on Recover Photo to confirm
That's it, you're done and the photo is undeleted. If you need to recover more than one photo, though, there is a slightly faster way than going through this separately for each one.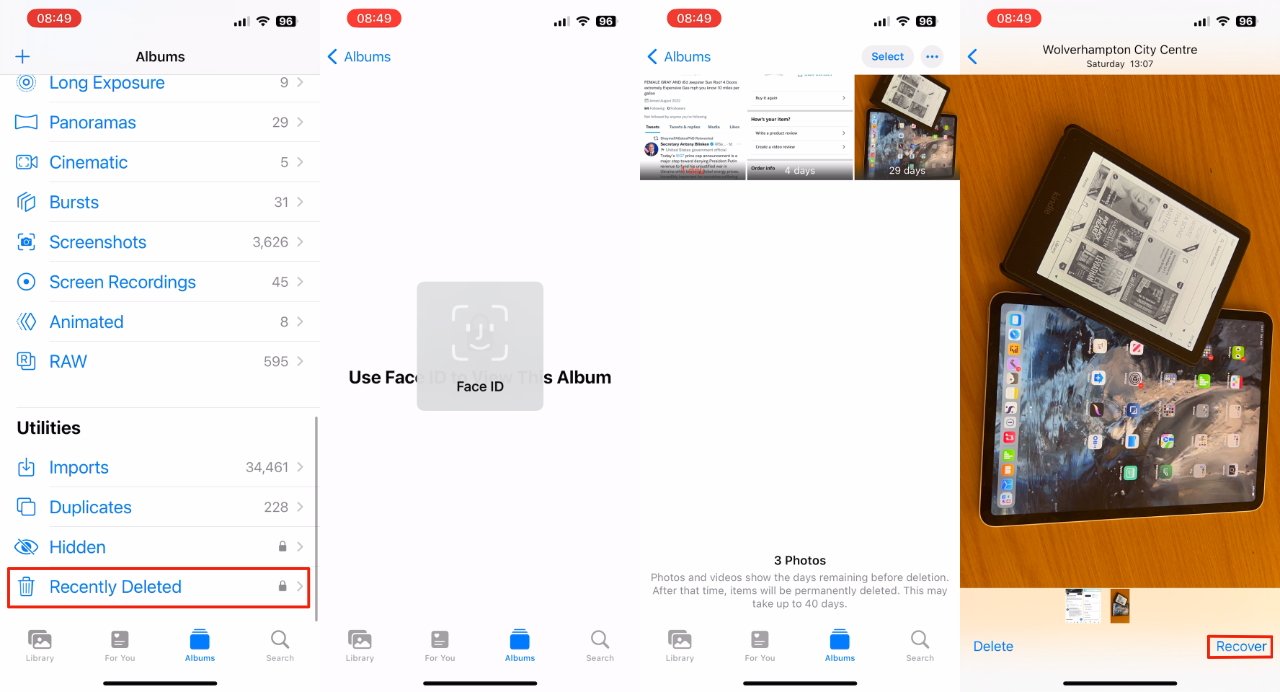 How to undelete multiple photos at once
Once you're in the Recently Deleted album, tap Select at top right

Tap on each photo you want

Tap again on a photo to unselect it if you've made a mistake

Tap the Recover button at bottom right

Tap on Recover 10 Photos to confirm
The number in the final prompt, such as Recover 10 Photos, will be different each time.
Notice that there is also a Delete button. That's how you can definitely erase an image right now, if you need to.