From brand-new controller designs to higher-fidelity visuals, there's a lot to get excited about with PS5 VR. PlayStation VR on the PS4 has been a success story in some very real ways, and Sony plans to continue that trend on the PS5. With over 6 million units sold and a steady library of games, Sony proved that VR gaming could be successful as an add-on to an already successful console.
Sony has confirmed that the PS VR2 will be a PS5-exclusive release and will debut in early 2023 with some exciting new technologies in tow. If you've ever played or owned an original PSVR, you'll know that, while it's a great overall experience, there are certainly some improvements that can be made. Sony Interactive Entertainment CEO Jim Ryan says Sony is focused on making PS5 (opens in new tab) VR "the ultimate entertainment experience with dramatic leaps in performance and interactivity."
Officially, the new PS5 VR experience is called the PlayStation VR2, or PS VR2 for short. Sony will be shipping the headset with a higher resolution, wider FoV, DualSense-inspired controllers called PlayStation VR2 Sense, and a single-cable connector with no bulky breakout box.
What is PS VR2?
So far, Sony has announced the PS VR2 in a strangely piecemeal way. The first PS VR2 announcement was a bit light on details, but the reveal of the PS5 VR controllers gave us a much better look at what to expect from Sony's second-generation VR system, and the CES 2022 PS VR2 announcement finally gave us a proper name and specs for both the headset and controllers.
Likewise, several other special virtual events Sony has held throughout 2022 have revealed new games and additional information that we've populated here for you to read about.
The PlayStation VR2 — or PS VR2 for short — will connect to the PS5 with a single cable and can be used to interact with virtual reality content on Sony's next-generation console, which will include games, movies, and social features.
The PS VR2 will ship with a brand new, redesigned headset, including new motion controllers — called PlayStation VR2 Sense controllers — that feature headset-based tracking, adaptive triggers, and multiple input methods for the ultimate VR experience. It is not known at this time whether Sony plans to offer a wireless version in the future.
PS VR2 specs
The PS VR2 is made up of two major components: the headset, and the controllers. So far, we've got a notable number of official specs for the headset itself.
| Category | PlayStation VR2 |
| --- | --- |
| Device | PlayStation VR2 headset |
| Display | OLED |
| Panel Resolution | 2000 x 2040 per eye |
| Refresh rate | 90Hz, 120Hz |
| Lens separation | Adjustable |
| Field of View | 110-degrees |
| Tracking | 4 on-headset cameras |
| Eye-tracking | Yes, IR camera for each eye |
| Sensors | Six-axis motion sensing |
| Haptics | Single vibration motor in the headset |
| Audio | Built-in microphone, stereo headphone jack with 3D audio support |
| Cable | Yes, USB Type-C |
At CES 2022, Sony also gave us a number of specs for the PlayStation VR2 Sense controllers, but we're still missing a few — like battery capacity — that we'll find out closer to release.
| Category | PlayStation VR2 Sense controllers |
| --- | --- |
| Device | PlayStation VR2 Sense controllers |
| Tracking | Six-axis motion sensing, IR LEDs tracked by headset cameras |
| Right controller buttons | PlayStation, options, circle, cross, R1, R2, R3 (stick click-in) |
| Left controller buttons | PlayStation, create, triangle, square, L1, L2, L3 (stick click-in) |
| Touch sensors | Capacitive finger touch detection |
| Haptics | Single controller actuator, trigger effect |
| Communication | Bluetooth 5.1 |
| Port | USB Type-C (for charging) |
| Battery | Built-in Lithium-Ion rechargeable battery |
What will PS VR2 cost?
Sony surprised many in 2016 when it launched the PSVR for $400, which was at least 50% less expensive than its nearest competitor at the time, the Oculus Rift. Now that the overall price of VR headsets has come down, Sony likely won't hold the price advantage with the PS VR2 that it had with the original PSVR. We don't yet know how much the PS VR2 will cost. Sony will likely debut the PS VR2 around the same price point as its nearest competitor, the Oculus Quest 2, which sells for $400 and up.
Aside from the PlayStation name, one of the biggest reasons to buy an original PSVR over other VR headsets over the years was the sheer cost savings versus many other VR solutions. We've seen VR hardware prices drop significantly since consumer VR went big in 2016, and the original PSVR itself can easily be found for less than half the price it launched at so many years ago. As such, we expect Sony to release its second-generation VR system at the same price, or less than what the original PSVR was released for.
When will PS VR2 be released?
The most recent information from Sony itself shows an early 2023 release (opens in new tab) for the PS VR2. A recent production report points to a possible March 2023 release (opens in new tab) with an estimated 2 million units available at launch. That would mean Sony is expecting around double the sales of the original PSVR in the first year.
For now, there are still several titles scheduled to come out for the original PSVR in 2021, including ones that run in enhanced mode on PS5 hardware.
What will PS VR2 controllers look like?
With the original PlayStation VR on the PS4, Sony utilized the PlayStation Move controllers that it had demonstrated before it announced its virtual reality intentions. At the time, the PS Move controllers looked to be in direct competition with the Nintendo Wii. As such, the form factor worked well enough for VR, but a few issues cropped up pretty quickly. Not only is there no joystick or touchpad for virtual character movement, but the single-point camera system caused dead zones in movement tracking.
Sony's official PlayStation VR2 Sense controller unveiling showcased a unique design compared to other VR headsets. It looked a bit like an ideal combination between the Valve Index's Knuckle controllers and the Oculus Touch controllers that ship with Oculus Quest 2. Undoubtedly, the most iconic visual change is the halo rings that wrap around your hands while holding the PS VR2 controllers.
Like the Oculus Touch controllers, these rings are designed to help the headset track the controllers in 3D space. This is done by an array of LEDs hidden within the rings which the camera on the PS VR2 headset will see.
That's a significant upgrade from the single light point on the original PSVR Move controllers and will ensure that tracking in 3D space is a lot more accurate than with the first PSVR.
A prominent joystick is found at the point where your thumb rests on each controller, which will enable gamers to more easily move around virtual spaces than is currently available with PS Move controllers. Joysticks or touchpads are found on all other major VR systems, which brings PS VR2 in line with other systems for virtual movement options.
A significantly more simplified button layout can be found on the top of each controller, contrary to the overly complicated scheme on the PS Move controllers. The right controller has two main action buttons next to the joystick — that's circle and cross — and an options button on the opposite side of the joystick.
As you might expect, the left controller features the other two action buttons — that's triangle and square — as well as a create button used for sharing videos, screenshots, and other media from your PS5.
Compared to the PS Move controller — which featured the same button layout on each controller and had absurdly small buttons because of it — the PS VR2 Sense controllers should be a lot more comfortable to use.
Additional buttons have been placed around the back and side, including one trigger button that can be used with an Index finger — that's R1 on the right controller and L1 on the left — and one grip button that can be squeezed with your ring finger, labeled R2 on the right controller and L2 on the left. Each joystick also acts a button: R3 on the right controller and L3 on the left.
Sony has also placed capacitive touch sensors around the backside of the controller grips which will detect when fingers are holding the controller. This will enable almost 1:1 hand movements in VR, as your virtual hand's fingers will close into a fist when you grip the controller and open up when you let go.
Something you can't see — but will certainly feel — are the new haptics and the adaptive triggers inside. Sony launched the PS5 with a brand new controller that blows other controllers on the market completely out of the water, and it's thanks to both of these new features that will also be in the PS VR2 controllers.
These Adaptive Triggers can actually push against your finger as you press them, delivering a palpable sense of friction and tension in VR games that no other platform currently can. The haptics, of course, will create a deeper sense of touch and environmental interaction in games thanks to their ability to differentiate between fine textures like sand, stone, and other materials.
Last but not least, the latest rumors say that Sony will actually bundle these new controllers with the PS VR2. That's a huge step in the right direction, as the PS Move controllers were sold separately from the original PSVR. That led to a huge gap in how VR games were controlled when played with a PSVR headset.
Bundling in the controllers will ensure that all games can be played using the proper motion-tracked controllers and will provide a consistent input type for developers and gamers, alike.
Will PS VR2 have an improved display and lenses?
As with the original PSVR, Sony is outfitting the PS VR2 with a high-quality OLED display, which will deliver far better color representation and black levels than the LCD panels used in headsets like the Oculus Quest 2. This OLED panel features a resolution of 2000 x 2040 pixels per eye, giving it a total resolution higher than 4K.
This OLED display also supports HDR output, which further widens the available color palette and brings it in line with expectations of visual quality from the PS5. The PS VR2's display supports both 90Hz and 120Hz modes, which could mean that developers will allow users to choose between quality and performance presets, just as on many regular PS5 games.
Based on the resolution of the display and the approximate size of the display panels, the PS VR2 should feature an incredible pixel density of over 700 pixels per inch (PPI). Given that the original PSVR display was only 386 PPI, this likely means that the PS V 2 display is twice as pixel-dense, which will reduce the screen door effect and mura. In short, that means you won't see the individual pixels as easily as you could on the original PSVR.
These new lenses widen the field of view (FoV) to 110-degrees — an improvement over the 100-degree FoV on the original PSVR — meaning you'll be able to see more of the virtual world around you without having to move your head.
Sony will also be including a proper IPD adjustment wheel on the PS5 VR headset. That means, unlike the original PSVR where IPD (inter-pupillary distance) adjustment was a massive headache (sometimes, literally), PS VR2 will feature a simple wheel on the side of the headset to adjust the IPD, making it easier for multiple players to join in the fun without having to re-run the setup process each time. That's a huge upgrade in and of itself.
Will PS VR2 be wireless?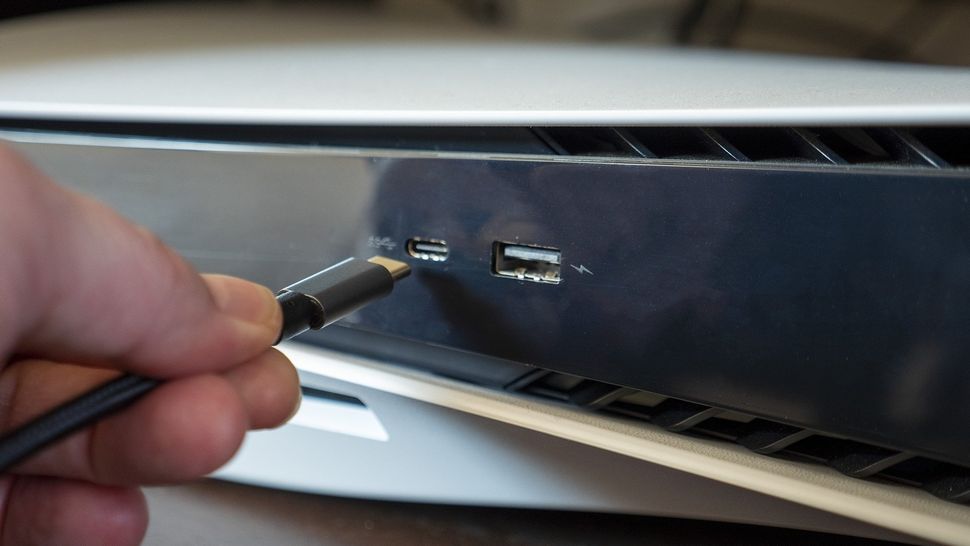 At launch, the PS VR2 will not be wireless. A single USB Type-C cable will be used to plug the PS VR2 headset into the PS5 using the USB Type-C port right on the front of the console. That's a huge upgrade from the original PSVR, which required a separate processing box to be plugged into power, HDMI cables to be routed to the box from the console, and several cable connections from the PSVR headset itself.
Will PS VR2 have better tracking?
Sony is utilizing what's called inside-out tracking for the PS VR2. This is the same tracking method used by the Oculus Quest 2, and utilizes four cameras on the PS VR2 headset to track the headset's position in the room, as well as the controllers themselves.
Each controller has a series of IR LEDs that can be seen and tracked by the cameras on the headset, which are used in conjunction with the six-axis sensors inside each controller and the headset itself. This means that any movement in real life will naturally translate to VR as you would expect from a modern VR headset. Gone are the days of the extremely limited single-camera tracking the original PSVR had.
The image above shows a room being scanned by the PS VR2's cameras, which can automatically map your play space and highlight any obstacles — such as furniture or walls — that might get in your way during play.
Does PS VR2 have a new headset design?
Despite revealing the controllers in 2021 and most of the PS VR2's specs at CES 2022, Sony didn't unveil the design of the headset itself until February 2022. Like the Sense controllers, it features a matching "orb" design, which according to Sony is meant to represent the "360-degree view that players feel when they enter the virtual reality world."
As for what's in it that sets it apart from the original PSVR, first up is the inclusion of a haptic feedback motor inside the headset; a first for the VR industry and a potentially ground-breaking feature depending on how Sony plans to implement it. Sony says that, with this sensor "gamers can feel a character's elevated pulse during tense moments, the rush of objects passing close to the character's head, or the thrust of a vehicle as the character speeds forward."
During a media hands-on session in September, Sony used Resident Evil VIllage VR to demonstrate this new haptic feedback engine, which rumbled as bats flew by, objects were thrown at or near them, and other similar proximity events occurred.
Given how small, unnatural movements can make players sick, Sony will need to ensure this motor is subtle enough to keep users from getting headaches or dizziness.
Inside-out tracking, as discussed above, means that cameras mounted on the headset would be tracking your position in the room, as well as the position of the controllers. Having a vibration motor in the headset could potentially cause anomalies in how these cameras view the world around them and interfere with tracking. If you've ever been recording a video on your smartphone and someone sends you a message, you'll immediately understand what's at stake here.
Likely, Sony has avoided those potential pitfalls by placing the haptic motor in the forehead pad portion of the headset, keeping it physically separated from the part of the headset where the cameras reside.
But a vibration motor, especially a haptic motor as sensitive as we know is included in the controllers, could deliver some seriously amazing immersion for players who are already comfortable in VR. Feeling a punch in a game like Creed or the smack of a shell against your helmet in something like Pistol Whip would be out of this world.
PS VR2 will be slimmer than its predecessor as well. PS VR2 is meant to be more comfortable than the current iteration since that's a standard part of tech improvement on a lot of devices.
PS VR2 also has a proper IPD adjustment wheel on the top of the headset, allowing players to quickly toggle the lens spacing to match their unique interpupillary distance. This is a big upgrade from the cumbersome software-guided experience on the original PSVR.
Lastly, is the discussion of being wired. This one is a huge disappointment for some folks, but being wired may have several advantages for Sony in this upcoming generation. For instance, by foregoing the wireless option, Sony could make a much smaller headset since it wouldn't need all the computation, wireless chipsets, and battery inside.
Will PS VR2 have eye-tracking?
Yes, the PS VR2 will have eye-tracking thanks to IR cameras inside of the headset.
While eye-tracking sounds a little freaky initially, the term eye-tracking is simply a way for the PS VR2 to improve the graphics in the exact places your eyes are looking at. This type of rendering is called foveated rendering and means that the PS5 will render only the center of your vision in the highest resolution. Sony confirmed at CES 2022 that the PS VR2 will have both eye-tracking and foveated rendering support
Everything in your peripheral vision will feature a lower resolution (since your eyes automatically lower focus detail on these segments of vision anyway) and help increase the performance of VR games by over 60% in many situations. In the video below, you can see an example from Nvidia that showcases different ways of implementing foveated rendering with eye-tracking.
Remember that viewing something like this on a 2D monitor doesn't give the full effect, as your eyes won't be able to see the lower-resolution edges the same way in VR space since the system will automatically move the center point based on your eyes.
Meta uses simple foveated rendering on the Oculus Quest and Oculus Quest 2, but this method breaks apart a bit if you use your eyes to look around more than your head. That's because the edges of the display are always lower resolution, while Sony's method would dynamically move this higher-resolution center spot around depending on where your retinas are aimed.
Eye-tracking also enables new methods of interacting with the virtual world and other players in virtual worlds. Sony said its eye-tracking technology could be used to help players better select objects or menus in VR, and there's nothing quite like making actual eye contact with someone to make a situation feel more real.
In a September trailer (opens in new tab) (seen above), Sony showed off how players can select weapons in the upcoming Firewall Ultra game for PS VR2 by opening the select wheel with a button press and looking at the weapon they want to select. These kinds of simple, more natural interactions will make selecting objects in games less cumbersome than before.
Will PS VR2 have face-tracking?
While Sony is definitely implementing eye-tracking into the PS VR2, face-tracking is likely another generation away.
Social networking is looking to take an entirely different meaning with the future of VR. You've probably seen plenty of sci-fi films and movies depicting artificial worlds that we'll all live in one day (think more like Caprica than The Matrix), and a lot of living and socializing in such a world relies heavily on face and body language. Right now, social applications like VRChat (opens in new tab) are an impressive look at what's to come in the future. But they're missing one huge part of communication; body language.
Sure, you can move around freely and express yourself with hand gestures and head movements, but no one can actually see your face or see the nuances our brains pick up when someone is holding their shoulders just a tad lower than usual. Platforms like Spatial present your actual human face on a virtual avatar, and the difference couldn't be more noticeable. While these projected faces can look a bit odd at first, there's no denying they're considerably more effective than the current environment of Zoom meetings and crappy video cameras.
This one might be a bit further out than PS VR2, but there's still hope that this patent (opens in new tab) from Sony shows that it's been worked on for some time and could very well be implemented in a future PSVR release. Having facial tracking means playing with your friends during Call of Duty in VR could feel far more like an actual experience, as you'll clearly be able to see what they think even before they say it.
While the above video showcases Meta's Oculus face tracking prototypes from a few years ago — which have not been released in any consumer product yet — it shows that this technology is far more along than some might have supposed. Like finger tracking, this isn't necessary for the VR experience, but it goes a long, long way in making it feel significantly more real.
What types of games will be on PS VR2?
It might sound a bit strange to wonder what sorts of games you might find on a VR headset — especially given that the original PSVR has had regular game releases since its release in 2016 — but it Sony looks to be experimenting with several different types of releases for VR titles with the PS VR2.
At CES 2022, Sony announced Horizon Call of the Mountain (opens in new tab). This new entry in the Horizon series takes place in the same universe as Horizon: Zero Dawn and Horizon Forbidden West. Since then, we've gotten more information about the game, which is around 10 hours in length and includes plenty of exploration and action just as you would expect from any game in the Horizon series. This is not an on-rails shooter as some were expecting at first.
Horizon Call of the Mountain is a separate, VR-only title being developed by Guerrilla Games and Firesprite but, according to several leaks, Sony will be targeting "hybrid AAA" releases for the PS VR2 instead of standalone VR titles. In a nutshell, this means games that Sony will be developing with PS5 VR in mind will also be playable outside of VR.
Games like Hitman 3 and Resident Evil 7 on the original PSVR are fantastic examples of games playable both on a TV and in VR, where the VR perspective of the game is more interactive and immersive for the player.
This would significantly cut down on the cost of development for VR games and, simultaneously, bring more high-profile, AAA-quality games to the PS VR2 as a platform.
Since this is just speculation based on leaks or rumors, it's not clear how many games Sony will be taking the hybrid approach with. The company's insistence on keeping the PS VR2 tethered to a PS5 likely means that developing games for multiple gaming perspectives would be preferred since it's more budget-conscious.
Sony separately showed off other VR-only titles like Firewall Ultra (opens in new tab), the sequel to the popular PSVR team-based shooter Firewall. We've also seen the announcement of several other VR-only titles like Alvo (opens in new tab), a fast-paced multiplayer military shooter that's scheduled to debut on PS VR2 sometime around launch and allows full cross-platform gameplay no matter which headset you and your friends prefer.
Will the original PSVR work on the PS5?
Yes, Sony does still support the original PSVR on the PS5. To use the original PSVR on the PS5, you'll need to claim a free adapter that connects the PlayStation Eye camera to the PS5, since that dedicated port from the PS4 is gone. The PSVR experience on PS5 is largely identical to what you're used to on PS4, and that's because Sony doesn't allow PS5 games to support the original PSVR. You'll need a PS4 copy of the game to play on PSVR. All original PSVR accessories also work on the PS5.
Newer titles that ship with VR support, like Hitman 3 for PSVR, actually come with both PS4 and PS5 versions of the game when you buy it. Folks that want to play in VR will need to download the PS4 version of the game and launch it from their PSVR. Many PSVR games will feature enhanced visuals and resolution when running on a PS5 but don't expect any drastic overhauls. Sony does not allow developers to target PS5 hardware with specific enhancements. Think of it like running a more powerful PS4 Pro; at least, that's sort of how the game is allowed to see things, anyway.
Will PSVR games work on PS VR2?
No, original PSVR games will not work on the PS VR2 headset. You'll still need to keep your original PSVR around if you want to replay these games at any point in time.
While it seems arbitrary to limit backward compatibility this way, there are several reasons why (opens in new tab) this won't work.
In a nutshell, the original PSVR utilized a stationary camera to track the movement of colored lights from a front-facing perspective. PS VR2 utilizes four cameras on the headset itself and sees the room from a very different perspective. While there is likely some interpolation that could be done to bridge the gap between these two technologies, it would likely be imperfect and result in a lot of bugs and a poor overall user experience.
Additionally, there would be no way to track the DualShock 4 controller — which several PSVR games require — because the lightbar on that controller is on the front. Since the PS VR2's cameras are on the headset and cannot see the front of a controller that you're holding in your hands, tracking a necessary controller would literally be impossible.
Sony also does not allow developers to target different hardware versions in their games, so playing a game developed for PS5 would not work with a PSVR, which is considered a PS4 accessory. All PSVR games are PS4 games, even if they can be played on PS5 hardware and, essentially, they see the PS5 as a PS4.